The revolution of the century for the automobile industry: Electric vehicles
The first car drove into the world in 1885. From the inception of the automobile industry to this day, the revolution of the century has been brought about by electric vehicles. Now, following the promotion of green energy policies in various countries and the restrictions on carbon emission standards, sales of electric vehicles are estimated to reach 22 million by 2030, and the market scale will grow nearly 10-fold. Leaders throughout the United States and Europe have announced that by 2035, cars will be fully equipped with clean energy sources.
According to statistics, the annual output value of the global automobile industry and peripheral industries in 2020 is approximately US$4 trillion—10 times the US$425 billion annual output value of the semiconductor industry. The electric vehicle market is huge and still growing, and is set to deconstruct the traditional gasoline-powered automobile industry. As a corollary, the semiconductor industry will now face a huge demand.
The fuel consumption rate in a traditional vehicle is determined by the engine; and the driving range of the electric vehicle in the future will be determined by 3rd-gen semiconductor SiC technology. A report from the research organization Yole Developpement points out that ever since Tesla took the global lead in adopting SiC on its Model 3 power module, giving it superior range, SiC has become the darling of the market, and many automakers and semiconductor manufacturers have vigorously worked out vertically integration of the supply chain for manufacturing of epitaxy, components, and wafers.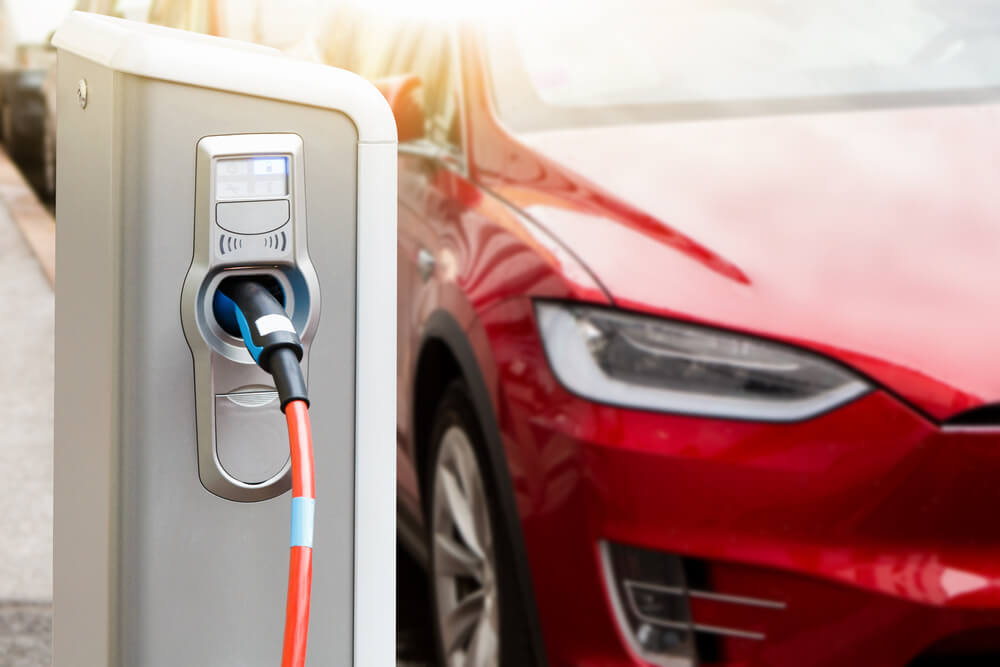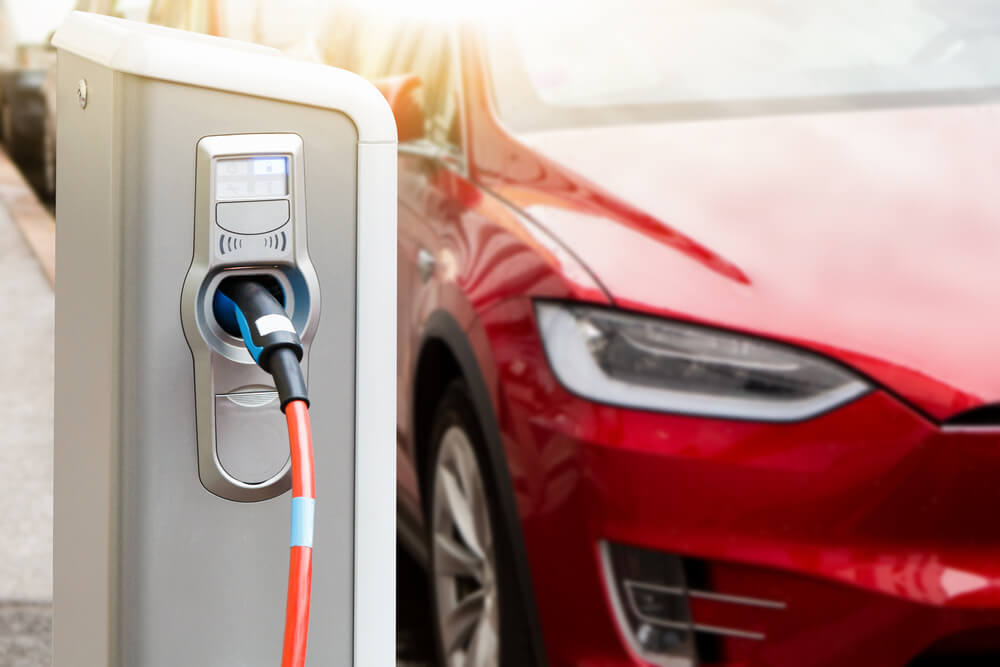 Achievements and challenges in Hermes-Epitek's SiC process R&D
To develop 3rd-gen of semiconductors, Hermes-Epitek established a SiC department solely dedicated to SiC technology R&D, and designed its own 6″SiC furnace. After long-term growth of a SiC boule at temperatures of 2000℃-2500℃, SiC boule machining begins, forming the boule into a standard cylindrical shape. This is followed by double-line cutting to remove the damaged layer (a process called slicing or lapping) on the surface. And, finally, chemical-mechanical planarization (CMP) is used to produce a roughness of less than 0.1 nanometers and micropipe density (MPD) less than 0.06 wafers per square centimeter. Currently, Hermes-Epitek is moving towards its goal of commercial mass production.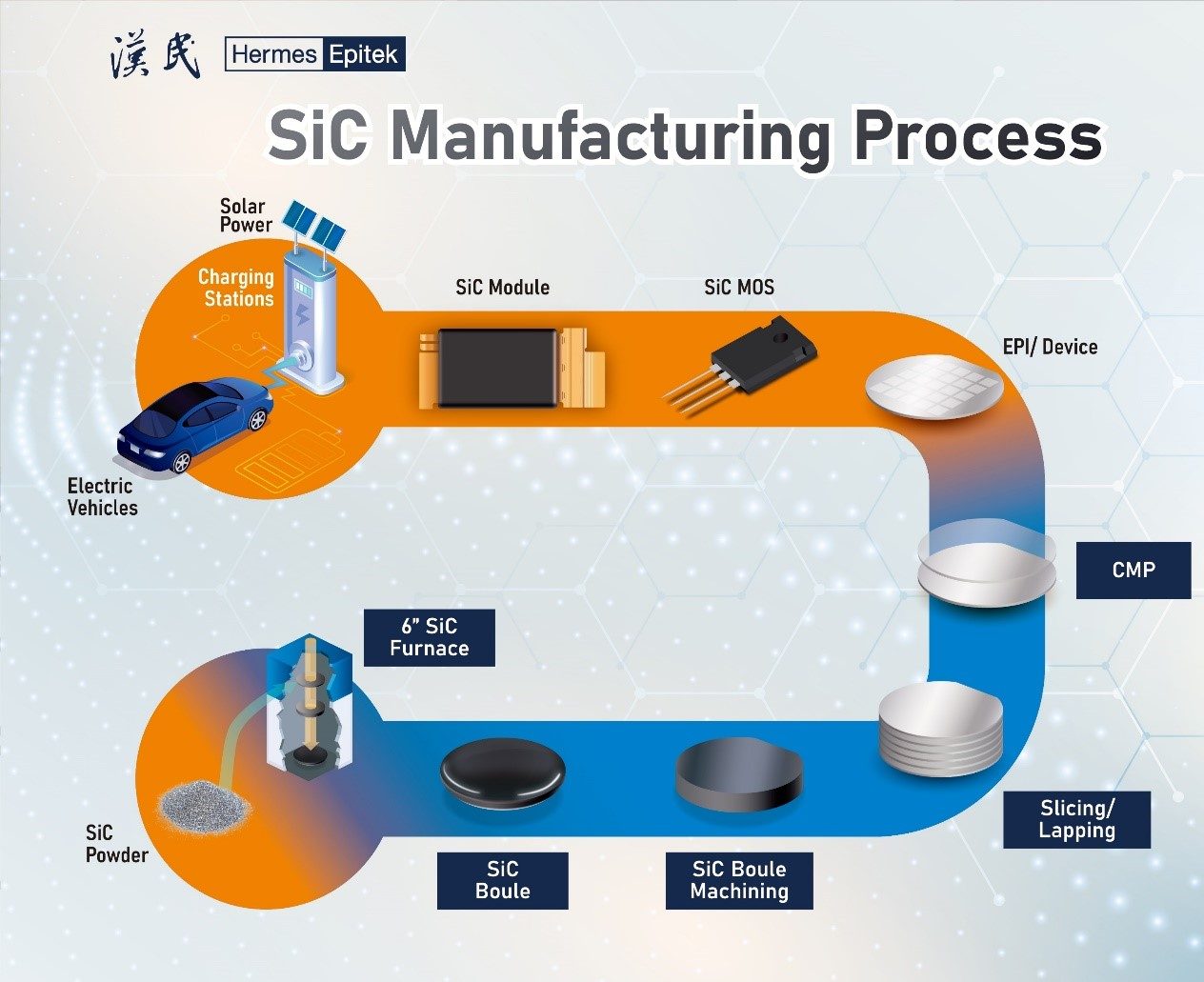 The scope of SiC market applications
The Band Gap of SiC is more than 3 times wider than that of the existing Si (silicon) and can withstand more than 10 times the voltage. The low loss and high-power characteristics of SiC are suitable for high-voltage and high-current applications, including electric vehicles, electric vehicle charging infrastructure, solar and offshore wind power, and other green energy power generation equipment. Compared with traditional Si, the 3rd-gen semiconductor material SiC can reduce loss from power conversion by 50%, reduce power conversion costs by 20%, and increase the range of electric vehicles by 4%.
Electric vehicles currently on the market are mainly 200V-450V battery power systems, while higher-end versions will be bumped up to 800V systems. There is a massive demand on the market for extending battery range, increasing battery capacity, and shortening charging time. Therefore, it appears that batteries will develop towards high-voltage systems with 800V, giving SiC, which can withstand those high voltages, a promising outlook. And according to the observation of STMicroelectronics, there will be a market for SiC so long as vehicles are using 800V battery power systems.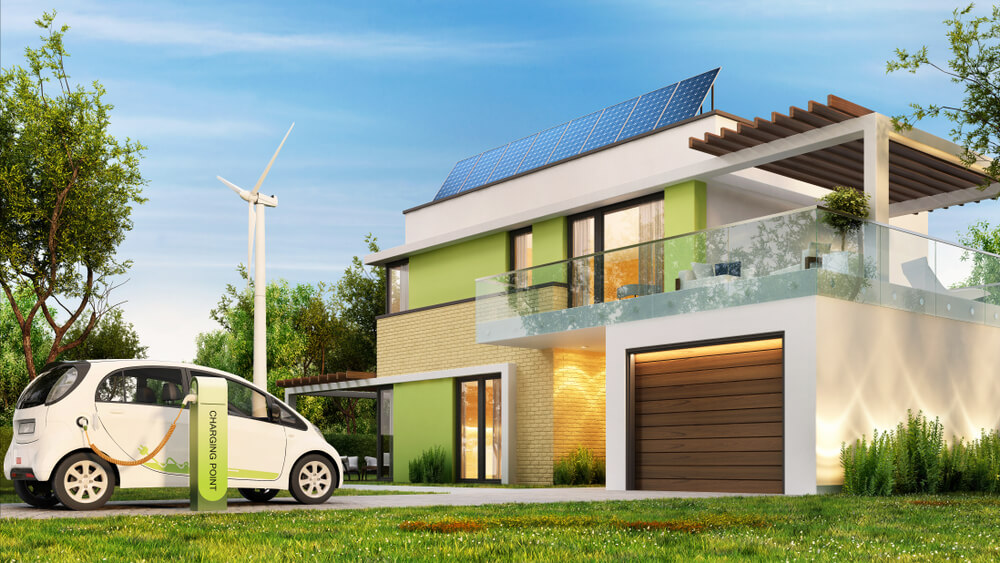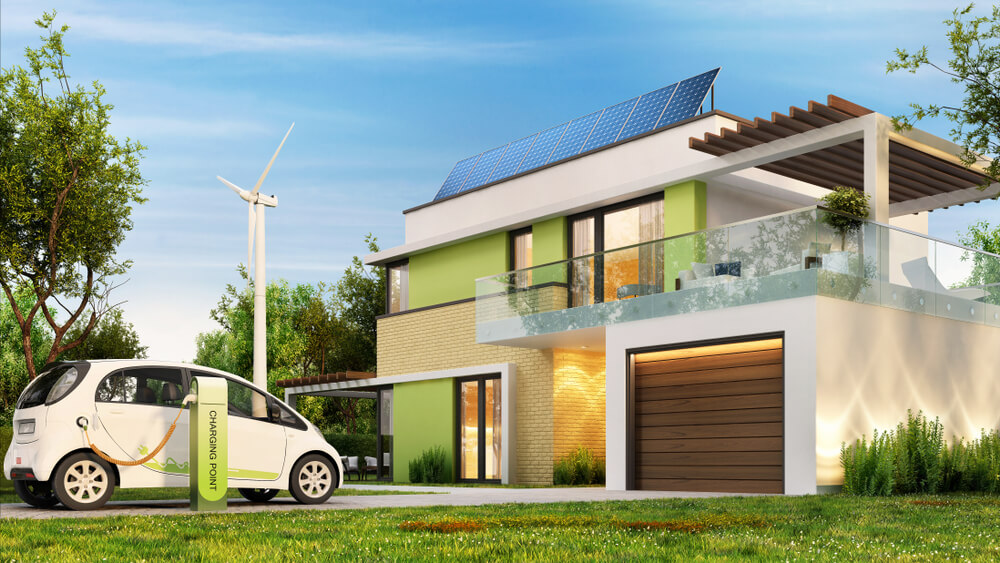 Source:
Hou Guan-Zhou (8:31 on January 20, 2021); 2021 "The Coming of Electric Cars" Electric Cars are Approaching Our Era at Full Speed, and Right on its Tail are Multiple Business Opportunities for Silicon Carbide and Gallium Nitride; Tech News (2021/05/17), retrieved from: https://technews.tw/2021/01/20/ev-sic-gan/
Chen Kobe (15:00 on January 19, 2021); 2021 "The Coming of Electric Cars" Global Electric Vehicle Market Analysis: 40% growth in 2021, with total sales exceeding 3 million vehicles; Tech News (2021/05/18), retrieved from: https://technews.tw/2021/01/19/global-electric-vehicle-market-analyze-2021/
Anthea Chuang (April 16, 2021); SiC and GaN components set to take "pole position" in EV market EE Times Taiwan (2021/05/18), retrieved from: https://www.eettaiwan.com/20200416nt31-sic-and-gan-devices-extend-their-domain-in-ev-market/
May (January 20, 2021); Development of 3rd-gen semiconductor SiC applied to electric vehicles;
iKnow (2021/05/17); Retrieved from: https://iknow.stpi.narl.org.tw/Post/Read.aspx?PostID=17447
Wang Yu-Lun (November 19, 2020); The End of Gas-Powered Vehicles by 2035! Tong Zi-Xian: With the rebirth of the US$6-trillion automobile industry, Taiwan will have endless opportunities!; Business Next (2021/05/20), retrieved from: https://www.bnext.com.tw/article/60159/th-pegatron-ev-2035